Brad Chain Pulley Block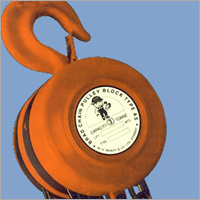 Brad Chain Pulley Block
Price And Quantity
Product Specifications
Product Description
Chain Pulley Block

BRAD
Balanced Spur Gear Hand Chain Hoists are offered in capacities in the range from 0.5 Tonne to 5 Tonne.

FRAME:
Made from MS Rolled Steel Plates. A detachable cover totally encloses the gears.

CHAINS:
Load chains are of Alloy Steel Grade 80 to International standards.

HOOKS:
Forged alloy steel hook rotates on balls housed in top / bottom block assembly.

GEARS:
Heat-treated alloy steel pinions and case hardened spur wheels.

LOAD WHEEL :
Made from Spheroidal Graphite Iron.

BEARINGS:
Load spur wheel mounted on Needle Roller Bearings.

BRAKE:
The brake is of automatic screw and discs type.

CHAIN GUIDES :
Steel chain guide roller provided

HAND CHAIN WHEEL :
Pockets accurately cast to receive calibrated hand chain. Hand chain wheel cover prevents chain from snagging and fouling.
Technical Specifications

Capacity (Safe Working load)

Tonnes

0.5

1.0

1.5

2.0

3.0

5.0

Number of falls of load chain



1

1

1

2

2

2

Test Load

Tonnes

0.75

1.50

2.25

3.00

4.50

7.50

Dimensions

A Hook suspension

mm

280

300

360

380

470

600

Hung in Trolley

mm
384

404

490

510

605

755

B

mm
142

142

178

142

178

210

C

mm
126

126

142

126

142

165

Hung in trolley

Track width Range-I

mm
75-125

75-125

80-140

80-140

80-150

100-150

Track width Range-II

mm
140-180

140-180

150-210

150-210

180-210

180-210

Minimum clear depth of track

mm
125
125

150

150

150

200

Built-in Units

Track width Range-I

mm
80-110
80-110

100-140

100-140

100-140

125-150

Track width Range-II

mm
125-180
125-180

150-210

150-210

150-210

180-210

Minimum clear depth of track

mm
150
150

200

200

200

250

Minimum radius of track curve

m

1.5
1.5

2.0

2.0

2.0

2.5

Weight: Hook Suspension unit for clear lift

Kg

10.5

11

16

15.5

24

36

Additional weight for extra lift
Kg

1.7

1.7

2.3

2.5

3.7

5.3

Weight: Geared Trolley with chain for standard 3mm clear lift.

Kg

23

23

37

37

42

81

Effort on hand chain to raise SWL

Kg

16

32

37

32

38

42

Velocity ratio (movement of hand chain to load chain)



40

40

52

80

104

160

Trade Information
100-200 Per Month

1-2 Days
Contact Us
143, Nagdevi Street, Mumbai, Maharashtra, 400003, India
Phone :+918037302009